It's fast, comfortable, and far more sustainable than flying or driving from the UK to the Alps. But it's cancelled.

To the massive disappointment of skiers and the ski industry, Eurostar will not run its iconic Ski Train this winter, despite its environmental claims to 'tread lightly'

Save The Ski Train

That's why we've helped found the campaign, Save The Ski Train to persuade Eurostar to reinstate this unique service.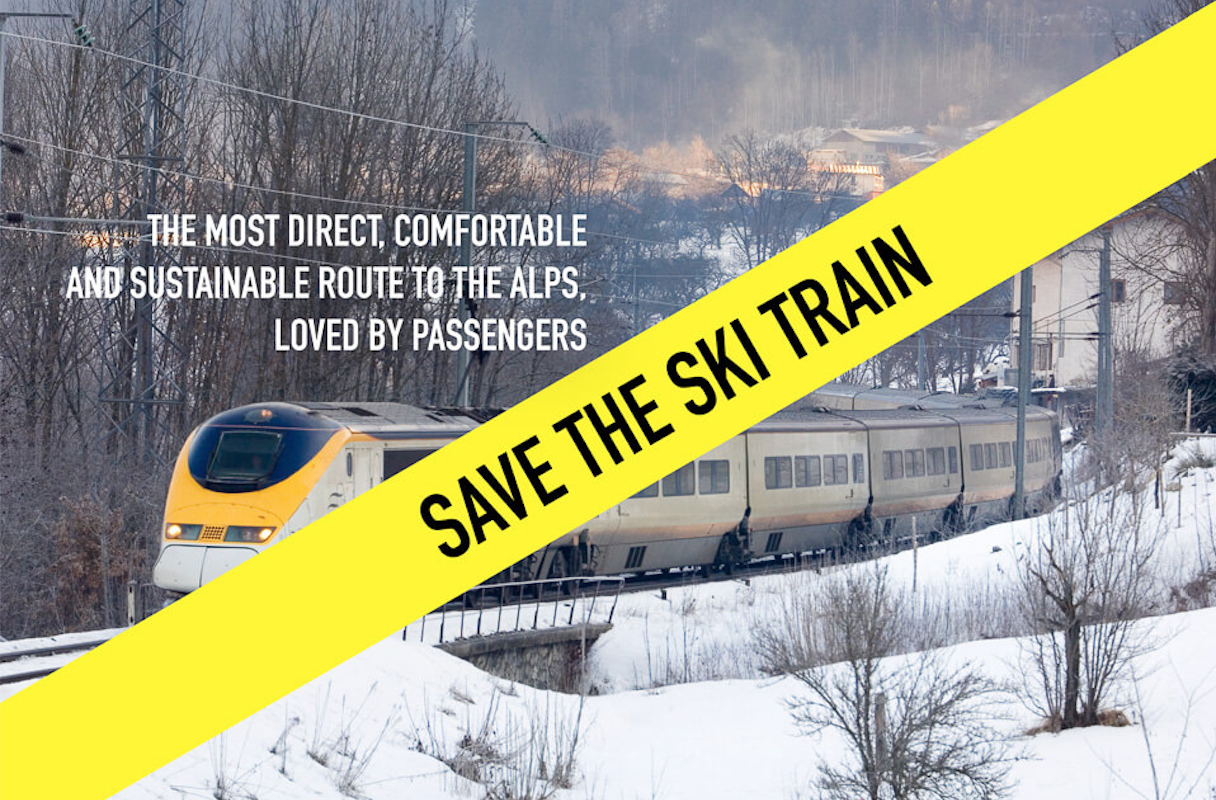 Ski Train has run since 1997
Since 1997, the train has run twice weekly from London and Ashford to the Tarentaise valley in the French Alps, dropping skiers at Moutiers, Aime la Plagne and Bourg St Maurice stations, a short hop by bus or taxi from 16 major ski resorts, including Méribel, Courchevel, La Plagne, Les Arcs, Tignes and Val d'Isère.
Over 20,000 skiers travel on the ski train each winter
With 750 skiers on each train, the Friday overnight and Saturday daytime services carry a total of 24,000 holidaymakers every winter.
The daytime train makes the 830km trip from London to Bourg St Maurice in just over eight hours and is frequently faster than flying when compared door to door — with an estimated 80% reduction in CO2 emissions. Travelling on the overnight train each way gives skiers two extra days on the slopes.
Coronavirus – an easy scapegoat
Eurostar told its customers: "In the wake of the coronavirus and a challenging travel market, we've had to make some changes to our services, focusing on our main routes with the highest demand".
Daniel Elkan, founder of independent rail-ski guide Snowcarbon, said:
"This cancellation is a damaging step backwards by Eurostar. While there are indirect train routes to the French Alps, these can't compensate for the loss of the direct Ski Train".
Transport is by far the biggest environmental factor of a ski holiday. A 2010 study by Alpine-sustainability charity Mountain Riders found that 57% of the entire carbon footprint of a typical French ski resort was solely the result of transport of holidaymakers to the resort.

Dom Winter, from Protect Our Winters UK, has pointed out that "the future of snow sports and the wider planet depend on us switching rapidly to more sustainable modes of transport."

Sign the Petition

The 'Save The Ski Train' campaign, launched by Snowcarbon, Protect Our Winters, Ski Flight Free and SaveOurSnow, hopes to create a voice for skiers, snowboarders and the ski industry together to try to persuade Eurostar to put the Ski Train back on.

"Eurostar's decision is premature and seemingly made without any consultation of skiers or the ski industry", says Elkan.  "There's still time to think again."

You can sign the petition at Change.org and follow the campaign on Facebook